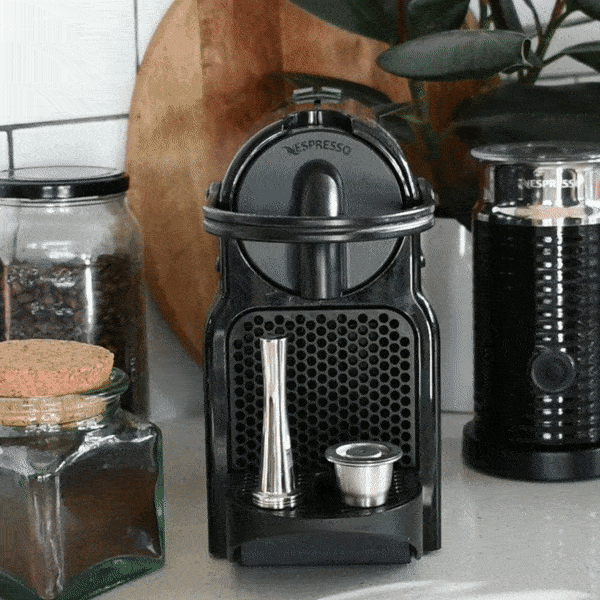 The perfect pod in 3 simple steps...
- Fill the pod. Add ground coffee, press down lightly with the back of the scoop, repeat to fill to the top of the pod.
- Tamp. Compact the coffee with the tamper, no need to apply much pressure.
- Place the lid on. Firmly press together, the lid should sit flush on the pod base.
Your pod is now ready to use in your machine as normal!
Tips & Troubleshooting
What type of coffee should I use?

To get the best flavour and caffeine extraction we recommend a dark-medium roast and medium-fine or "espresso" grind coffee.  
How to make a stronger brew?

If you are experiencing a weak brew you may need to use a finer grind coffee in your pod.

For an extra-strong coffee we recommend using 2 pods, each brewed as a single shot in the same cup.
Can I make other drinks with my pod?

Yes you can, our Pods are great for espresso but they can also be used to make tea, hot chocolate, chai, etc.
Should I clean my pod?

The pods can be refilled with fresh coffee straight away, or quickly rinsed under a tap between uses.

The pods are also dishwasher safe for an easy clean.
My pod won't go into my machine?

We have found the best way to get the pod in the machine is to simply drop it in. As silly as it sounds it really is the best way.

It may take a couple of attempts to get the hang of, but when done correctly the pod should just fall into the correct spot.

If after dropping the pod in you feel like you cannot pull down the machine handle, you should be able to simply press down on the bottom/back of the pod with your finger and it will move into the right spot for the handle to be pulled down.

It is certainly not as complicated as it may sound, linked here is a video demonstration.